Travelling Heathrow to Narita:
The stress of boarding has driven me into a state of denial. During the flight I escape into cheap and vaguely humorous literature punctuated by small bouts of Sudoku.
Day 1:
At 16.30 the bright light was fading and by 17.00 it was dark. As dark as it gets in a mega-city of lights.
Day 2:
Day 3:
Again that glorious clear blue sky and sunshine; Sumida gleams like blue-black diamonds. A couple of homeless guys are sleeping on sun-warmed benches on the river walkway and an elderly woman crouches by the gleaming river, enticing a flock of pigeons to eat from her hands.
Day 4:
Heading out into a blue-sky day, albeit with a few clouds waiting in the wings, I notice that it's rubbish collection day. Piles of little white bin bags are heaped at intervals along the street. A passing cyclist stops to inspect the contents of one heap.
Day 5:
Day 6:
Another light, bright morning, but today there is a cold wind blustering. And today is about gathering ingredients for the traditional English cake and the all important Danish treats, so it's back to Ginza and the bakery supplies franchise within the Lumine department store.
The plentiful camellia blossoms are beginning to seem appropriate for this season of bright and loud decoration, but I wonder if the customs of dark winter lands are, like my manic delight of yesterday, a little over the top for this bright and beautiful country.
I'm learning a lot about being organised, calm and positively uplifting.
Day 7:
A Christmas party – rather unexpected and requiring the fully decorated ScandiBrit tree. This quite realistic plastic item was surrounded by a white sheepskin 'snow scape' and liberally adorned with gold and silver sparkle, together with red and white reindeer, ponies and  homemade, traditional Julenisser (a sort of leprechaun-style mythical little figure with the power to create havoc in your life). All topped by a shiny golden star.
And I thought Christmas came all too early in UK.
The children, two-year-olds, enjoyed their toys after checking that each did indeed have an identical item.
Day 8: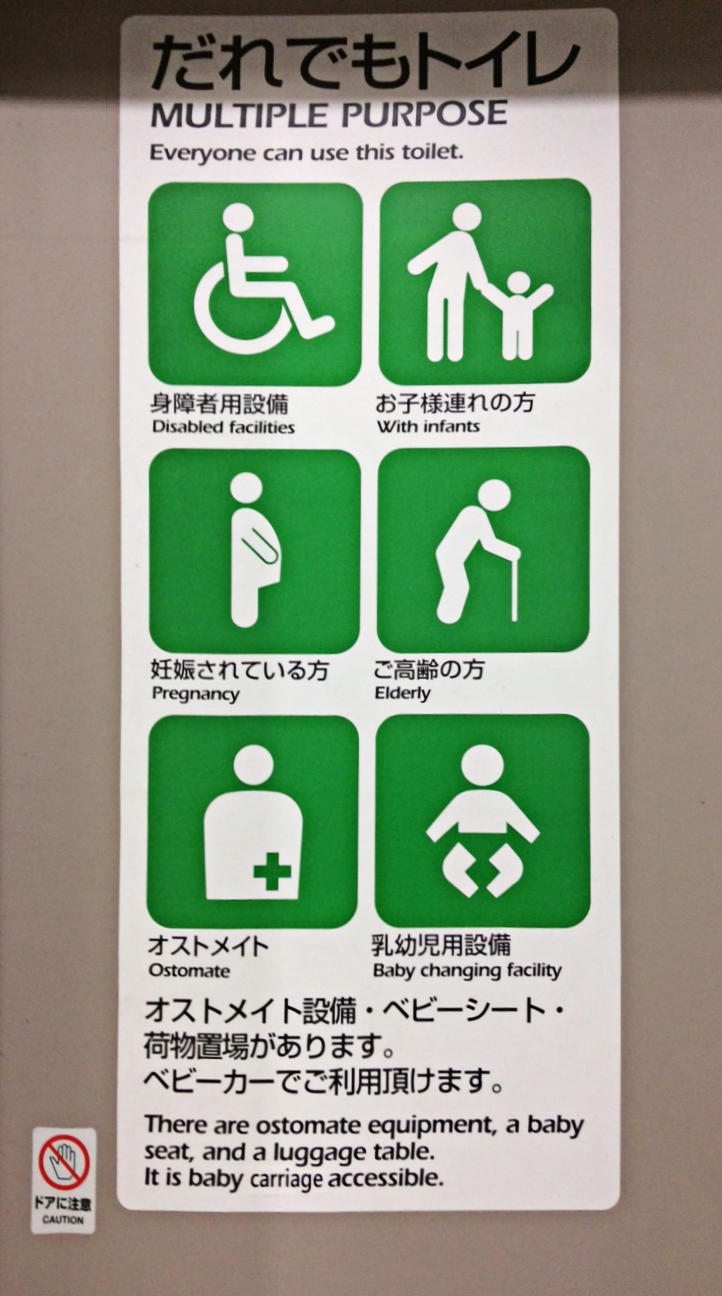 Today hardly qualifies for the diary, being a stay-at-home day; a housekeeping day…
Day 9:
 A grey day by Tokyo standards and cold, but still with good light. I decide to visit the gallery/shop beside architect Vinoly's great glass ship that is Tokyo International Forum.
I discover the Lighted Bench Artwork is also represented here in the square; but this time something more obviously Japanese appears to sit guard over TIF and the smaller gallery/shop next door.
This northern European feast, brightening the darkest days of winter, is transcending its adoption and adaption by Christians to spread across the world – with and without religious connotations.
Day 10:
Return of the warm sun-bright weather, another day without a coat! Tokyo edges ever closer to the tropical.
I did a physical search for the bridge museum, without luck. I read about this once-opening bridge, which crosses Sumida just after the current river walkway ends, and the campaign to have it open again. It mentioned a museum. A little museum worth a visit.
Rolling over the edifice, although it is in regular heavy use by both pedestrian and vehicular traffic, the bit that once opened in the middle makes ominous clanking noises. It feels perilous and old. Maybe the museum is long gone.
Day 11:
 Baking day. It's most definitely time to make the English Christmas cake. It needs to settle a bit before we coat it with marcipan and get creative with icing and some decorations. The Danish baking needs to be ready for the 23rd – little Christmas Eve.
On the way to collect the baking ingredients some days ago, I did my best to photograph the Wako department store window. Selling 'Christmas giving' with baubles and fake snow, the grey mesh figures stand behind hints of a clock, and suggestions of horoscopes in a clever play on Japanese seasonal sentiment. The rising sun, so Japanese, also references the Scandinavian Jul.
This must be christmas – with a small c.
Day 13:
A day in Roppongi; a sunny-day, but cold from a biting wind. Making our way first to Tsukiji and then taking the metro, we got there around lunch time and headed straight to my favourite raw fish restaurant.
Day 14:
The trappings of Commercial Christmas are no-where near as evident here (the photo is from Marunouchi – a much wealthier part of the Tokyo Metropolis) and actually it doesn't even look like the New Year preparations have started yet. It seems to be business as usual. And that's rather nice. Everywhere is clean, inviting and cheerful. Plenty of space, places to sit, refreshments and loos. Possibly more international than Japanese, with a wide choice of Western and Asian foods. There are also plenty of icecream parlours, pancake parlours and combos that are most definitely not the healthy option.
Snacking while you shop must be a modern international thing, but wandering around with food is still frowned upon in Tokyo. Walking while smoking is also prohibited
Days 15,16, 17:
Mostly sick days. Mostly just spent cosy-ing at home, generating hygge as best I could. I had a seasonal sore throat, probably aggravated by the dry air, in spite of billowing clouds from several humidifiers, and I felt utterly foul and quite pathetic.
I did try a variety of traditional and modern cures – honey and radish rapidly gave way to ginger and lemon drinks and lozenges from the konbini. The warm honey and white radish drink smelled and tasted quite disgusting I think maybe like the liquid from green compost…
Recovery seemed so slow. Danish baking took up a lot of day 17 with the preparation for various dough mixes and side dishes filling up much of the morning. And the time consuming hand rolling of pebernodder – hazelnut sized pepper biscuits that get shaped into little balls in the palm of the hand, entertained my afternoon.
And the day being 'Little Christmas Eve-day' it was ok to sample the finished results.
I did feel well enough to venture out to admire the Christmas lights and enjoy a Chinese evening meal in Ginza. I kept my eyes open for monkey signs! Last year the sheep was much in evidence as the new year approached, but the monkey seems more reticent.
It was cold, I wrapped up warm and took my hot-water-bottle. It did a good job of keeping me glowing as we wandered the brightly lit and decorated main streets and admired the Seasonal window displays. Many really were works of art.
The restaurant was very modern and warm, the Chinese food very good and the way of eating with shared food was just perfect.
Day 18: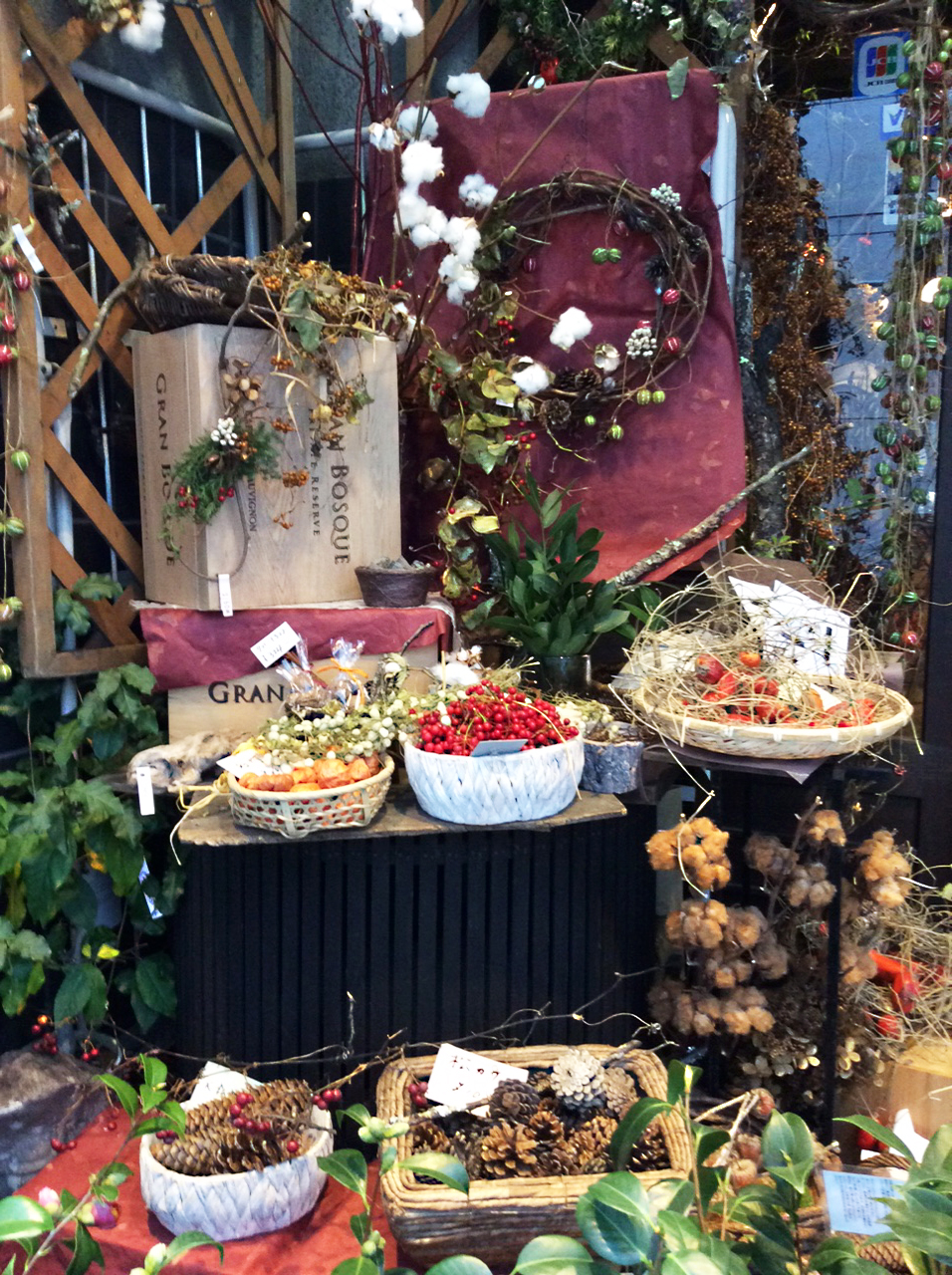 Juleaftens dag (Christmas Eve day).
The Klijner dough had rested overnight in the fridge and was ready to be rolled, cut and twisted into the traditional shape to be deep-fat fried. And the English cake, with its generous coating of marcipan, was ready to be iced, we even found some holly decoration.
We had our traditional smørrebrød lunch with as many Danish style toppings for our ryebread 'halves' as we could conjure up. And reminded ourselves how to use knives and forks!
After lunch we prepped pudding rice (actually sticky Chinese rice) for risalamande – it needs to be cooked with vanilla korns (the little black seeds removed from their pods) and allowed to cool, we boiled potatoes for brunede kartofler – they also needed to cool after being peeled and finally we made the black cherry sauce – with whole black cherries – which is also served cold.
We aimed for a tour outside to work up an appetite before starting cooking the main meal. The salmon went in the oven stuffed with lemon and ginger while we whipped up cream to mix with the cooled vanilla rice and a generous portion of chopped almonds, plus one whole almond. The little kitchen was overflowing, so we put the finished risalamande and black cherry sauce out on the balcony until we needed it.
Traditional sprouts were prepped and boiled (I might try roasted next year), the red cabbage, which had been prepared well in advance, was warmed through while the potatoes were toffee'd in caster sugar, butter and a little oil.
Somehow it was all timed to be ready to eat as soon as we'd finished our perfect Japanese melon starter.
It is strangely exciting eating this long familiar meal in Tokyo. And I got the whole almond and consequently the mandelgave, the 'almond gift'. When I was a child this was often a marcipan pig, but now we stick to chocolates.
Then a few choice presents under the tree. Each recipient was photographed unwrapping and opening gifts – a cause for much amusement. It was lovely.
In a rare quiet moment we could hear the lingering bad spirits of 2015 being warned off by the 'clacks'. I don't know what they are called in Japanese, google fails to enlighten me, but these bands of guys roam our area after dark making noise with what sounds like rhythm sticks. The intention is to prepare for the new year by chasing away any lingering bad fortune, so that everyone is receptive to all the good fortune the new year will bring.
The ritual takes place several times a week through December, building in frequency.
Even though the clacks are out, I'm still coughing…
Day 19:
 Christmas Day
Day 20:
We planned to eat out and researched a Chinese restaurant that looked inviting. We made our way through the crowds to check out the menu boards, but were sadly disappointed. Our chosen restaurant proved to be mainly meaty, so we ended up eating in Muji.
Ginza Muji is very popular with multi-generational families and it is always fascinating to check out the other diners. As in China, the Japanese people celebrate the new year in families and the atmosphere was already feeling quite festive.
Our meal was followed by browsing the sales, Muji has something for everyone and Japanese sales assistants are so polite and welcoming.
We came back home to Christmas cake – it was produced with some ceremony and cut open with much curiosity. The fruity insides were a great success. The marcipan, a little too sweet, was not the brand of choice, but shopping in austerity UK means many good things have disappeared from the shelves and I have not yet discovered where to buy quality marcipan in Tokyo. I'm sure it exists!
Card games, board games and our traditional family dominoes entertained us.
Day 21:
Mind over matter
I conquered my fear
of traveling the Rainbow Bridge
by repetition.
Now the mere idea
of traveling high
between Tokyo skyscrapers,
out over the bay
in an unmanned train
is a thrill. Delight,
anticipation
fuel the adventure
with a true sense of magic.
.
Day 22: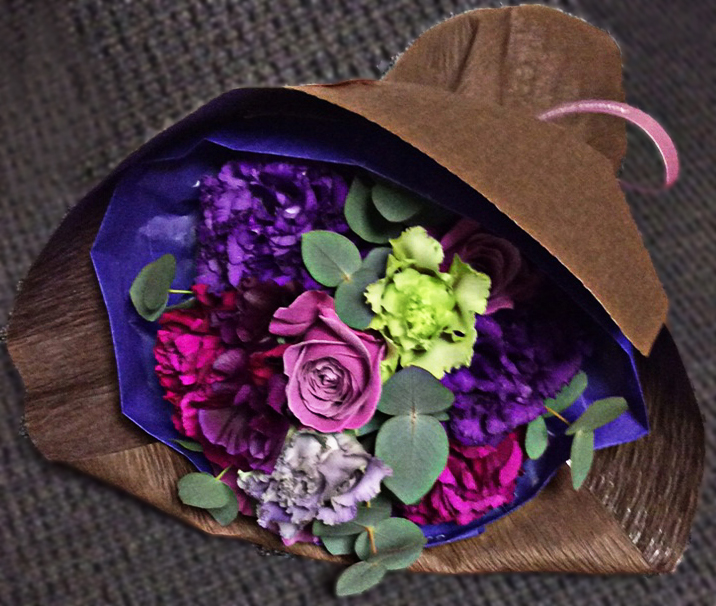 An arty day, meeting media and talking about my art and my philosophy.
I was met with this beautiful bunch of flowers, the picture really doesn't do them justice.
The brown textured-bark paper was amazing. And the flowers lasted weeks!
Day 23:
Consolation food called. We headed for 'our' restaurant which is a bit of a hairy ride downhill from Roppongi Crossing; the paved surface leaves a lot to be desired. I do feel pangs of conscience about going there. I don't know how sustainable or ethical their fish-catch is. I avoid anything on the menu that I might have doubts about. The items we chose were wonderfully fresh (we are not that far from Tsukiji – Japan's renown Fish Market) and utterly delicious.
Wonderful food, and as much hot green tea as I could drink, later we wrapped up in our warm outer clothes and headed back up to Roppongi Hills.
Here in the Mori Museum of Art was the exhibition: The 500 Arhats, the so-called paintings of Takashi Murakami. I say so-called because these images, printed on large panels by a studio team of workers/students, looked more like enamel than paint and, according to the detailed illustrations from Takashi's studio, were in fact screen prints. All very confusing.
There was a lot on offer including a very lifelike figure caught in the process of emerging from a duplicate of itself, its eyes rolling and mouth moving as it chanted – the whole thing feeling very creepy.
The exhibition was very colourful, if somewhat repetitive, with a 60's vibe updated with a nod to Terry Pratchet and hints of Alice in Wonderland. 500 Arhats, at 100 metres, is claimed to be 'one of the largest paintings ever produced in global art history'. It was created as a token of gratitude to State of Qatar, one of the first to offer assistance in the wake of The Great East Japan earthquake in 2011. The quantity of works, including new pieces, was somewhat overwhelming.
Day 24:
Last day before the End of Year Day…
The Korean curry was hot in every sense of the word, the flavours are subtle and not necessarily what I would associate with curry. For years Indian curries informed my idea of curry flavours and these were not inevitably hot, but rich and complex to the taste buds. Korean curries, as served in Tokyo, are hot, and to my taste buds they do seem subtle but without the depth of flavours. In their own way they are very nice – colourful and rich in textures.
If I lived permanently in Tokyo, I'd have to solve this one, or pay full price for my new clothes.
the skinny wheels move
just a light-weight chair,
but then, there's me
average I guess,
rolling over feet
shod in Japanese shoes
often the weak link
in a smart outfit:
cheap shoes.
my own feet
cringe
at the mere thought.
Day 25: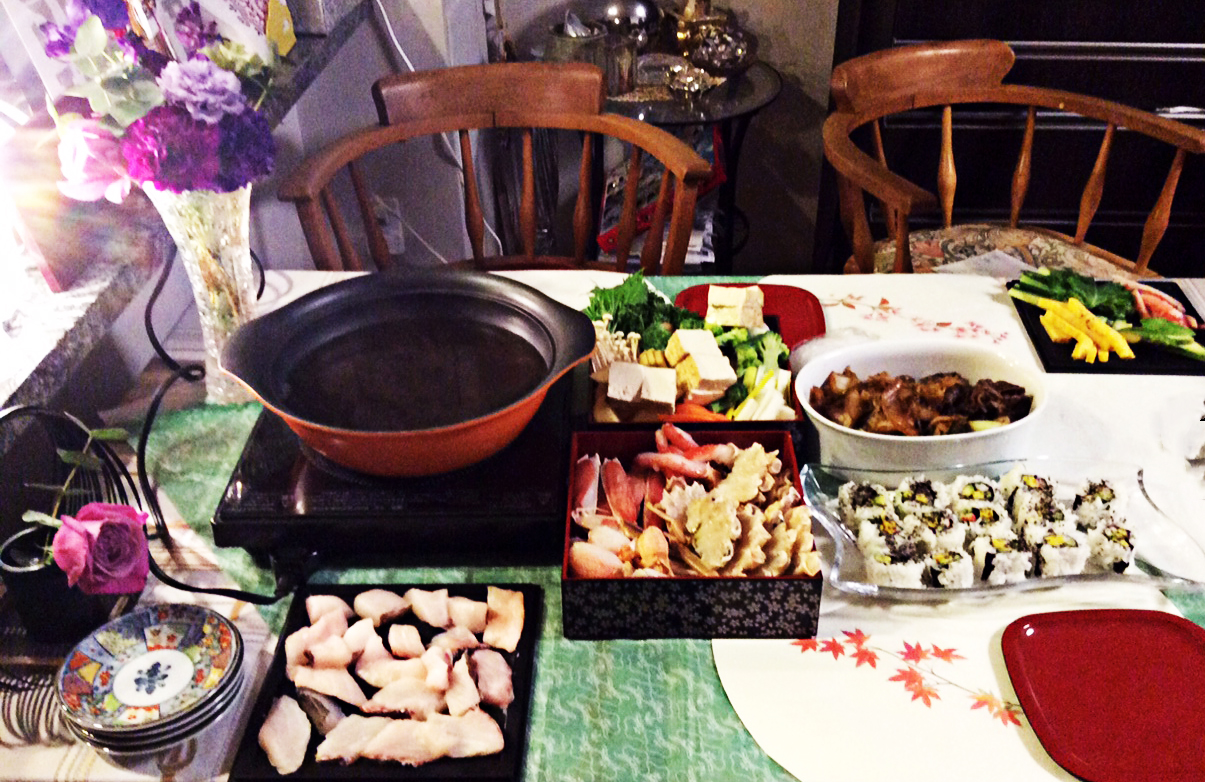 End of year day and we all had coughs. Food prep, resting and dozing took up all of our time.
There was no rush, no stress, just the nearest you'll get to hygge outside of Danmark.
After our day of relaxed preparation, part of the meal does need to be cooked at the table. Last year some dramatic escape attempts prompted a rethink; our crab, this year, had already been dismembered and deep frozen, so no scuttling!
Day 26:
 Sitting watching the sun rise on 2016 – as best I can from the balcony – as the soft pink-peach glow spreads around neighboring skyscrapers. A qua-bird dips its beak silently in a gutter still holding a little water, it all seems incredibly peaceful.
This was in a rather run down patch partially under the bridge and the ramp itself not in great condition, but doable. It was steep, but like all Japanese ramps, had short level patches where one could rest.
The bridge itself was fine and it was fun to look back over to the very beautiful white bridge we normally used. The ramp down was well worn. I had noticed how busy it was when rolling underneath it – a lot of cyclists use it.
A very good outing, I hope to do it again.
Day 27:
Day 28:
One of the things I do try to do in Tokyo is go to the cinema. Getting around in UK is practically impossible, and the last time I tried my local cinema the wheelchair space was just that. Someone had removed one of the fold up chairs at the end of a row. The space was angled steeply towards the screen and no one had thought to level it out. Needless to say, the experience was not pleasant.
Day 29:
Rolling into Ginza I travel the walkway barely visible on the right bank of the river, joining just beyond the bridge visible where the river bends to the right. I roll past the skyscrapers  and high-rise on a pleasant journey with plentiful seating and seasonal planting. Ginza is to the right of the picture and my route is not at all direct. I could take other more and less accessible routes, sometimes I do, but this is my favourite.
I contemplated rolling back over the river to the Megacity village – I love the fact that there is so incredibly much diversity in Tokyo. How brilliant it is to do so much independent stuff. And to feel safe while doing so.
I shall, world permitting, certainly go back there with a sketchbook and a camera.
I grew up with Janteloven, the Law of Jante, the idea that I was no better than anyone else – and naturally, that no-one else was better than me. I grew up to value community, communication and that famous 'hygge'
I grew up with the Danish notion of focusing ones attention and energy on the things one valued as a valid social comment. I didn't need to poke around and complain about stuff I found distasteful unless I was ignoring harm being done to someone. I grew up with a notion of diversity; a notion that equality didn't mean a bland, across the board sameness; a notion that compromise could be fruitful and I grew up with a faith in my own values.
I feel this echoing through my experiences in Japan; the Dane and the Japanese 'on the street' seem to have some valuable things in common.