2014/5  Tokyo Christmas and New Year
December 21:  getting there
Here I am in Tokyo again and feeling lucky to be here. Each time I take to the skies there are obstacles to overcome. Every single time they are different; somebody somewhere has fun shaking up T&C's for the ideal knife edge experience every traveller longs for.
The first thrill was that my ebooking was invisible to the airline flying the aircraft. Three companies were using this plane, each with their own system. I was advised to contact the plane owners 48 hours before the flight when all bookings became visible. But I could order a vegan meal.
48 hours before my flight the Special Assistance desk is closed; Special Assistance booking is not catered for on the weekends (the IDS effect? Or do disabled people just not travel on Mondays and Tuesdays?). Some handy techno-wizardry with 3-way IM and a telephone (thanks guys), left me reassured that Special Assistance was booked.
Trafik accident and resulting road closure delayed my actual arrival at the Special Assistance check-in where I discovered that Special Assistance hadn't actually been requested. But they had managed to order me additional vegan meals,  since the original order (lacto-vegetarian apparantly) was faulty, but couldn't be corrected.
Avoiding Special Assistance was a treat. Airline staff escorted me like I was a real sentient human being. Must remember that!
At the door to the aircraft there was a dramatic last minute attempt to turn me away by questioning the on-board safety of my wheelchair batteries. Someone had the bright idea that dry cell batteries were hazardous on board, his opinion carried weight and was hard to shake.
My batteries travel with me regularly. They have their own little safety covers to travel in. I handed one over to a Japanese-reading crew member who declared it to be a nickel battery (which is what rechargeable dry cell batteries are). No-one at the barricades had any knowledge of nickel batteries so after a silent stand-off, a sudden 'what the hell' and I was allowed through.
Onboard, I was looked after very well, a small crew skuffle about which of the two meal options to feed me was made up for by 4 extra blankets and a frequently refilled hot-water-bottle.
At Narita airport I was recognised by 'my' regular special assistance lady who was happy to welcome my unexpected (unbooked) arrival and swap her other duties to make sure I was safely collected by my very own personal assistance for the Skyliner train journey into Tokyo.
Special Assistance at Heathrow
degenerates to that Special
understanding that interprets
people as baggage items to
be taken from A to B
with little regard for dignity.
Being human, requires being
alert to the perils of Special.
Living human is no rose garden;
though fertiliser is the dung
we share, it does more for roses.
Special roses like a good mulch.
Special human thrives without the
application of manure.
December 22: seasonal scurrying
I've been on a most unJapanese mission to acquire the ingredients for an English Christmas cake.
Not far from Tokyo station there is a shopping complex/department store with a baking/cooking ingredients and implements section on the first basement floor. Heading out into glorious sunshine and a bitingly cold wind, I'm surprised to pass incredibly long queues of Japanese people at bus stops and at, possibly, a lucky lottery ticket seller. There is a familiarity in the sight of winter-clad humans. Cold weather gear unites the winter world; these people could be anywhere.
Near the Kabuki theatre a solitary kimono-clad female, wrapped in a woollen shawl and scurrying small steps, is looking desperately cold.
I pass a shoe shop with 'a holy Christmas selection' and a shopping mall playing the slowest, most mournful version of 'White Christmas' you could ever not wish to hear. Various little decorations proclaim Christmas is here; Scandinavian Juletide is popular.
Arriving at 10.30 I am dismayed to discover that nothing opens before 11.00; there are people queuing outside. In spite of the cold wind, sunshine, blue sky and the wonderful clear light lift my spirits, but I'm not as hardy as the queue. I wait inside the neighbouring mall and get a hot fruit drink from a vending machine.
The Aladdin's cave of baking/ cooking supplies could have entertained me for hours; it stocked interesting takes on all of the ingredients I needed for my traditional family cake and Scandinavian Julekiks (biscuits), plus all sorts of tempting side steps into intriguing meal options for fusion foods.
The rise of the down jacket,
one design to rule the world,
takes me by surprise. The world
being winter wrapped, feather clad
in warm, universal down,
packaged in the shiny wind-
proof black of polyester;
and who knows the down is
probably poly too.
One idea to warm the race
one design to rule the world;
the rise of the down jacket.
December 23: Emporer's birthday and Lille Juleaften
Today is the Japanese Emperor's birthday, a public holiday, and for us, Little Christmas Eve. It is also light, bright and full of sunshine.
Our Christmas cake has come together well, looks right and fills the apartment with just the right aromas, in spite of some interesting dried fruit substitutions. The final verdict will of course have to wait until 25th.
Potato and butter shortages threaten to scupper the traditional ScandiBrit Christmas my family is accustomed to. The butter shortage, with subsequent rationing to 200 gms per person, also threatens the newer Japanese Christmas tradition of a fresh cream and strawberries sponge cake.
Serious hunting has tracked down a potato variety which looks like it will survive the necessary toffeeing process and careful butter buying has given us enough to bake klejner and pebernødder.
Wrapping paper has also been a conundrum. Japanese do make wonderful paper, but don't sell it in sheets big enough for wrapping gifts and of course the glorious little pieces don't look at all like Christmas. Tokyo Hands, my favourite craft, DIY, hobby, altogether lifestyle store, came to the rescue with metre squares of Christmassy wrapping.
I've never seen the shops so crowded, or people so very laden with bags. I'm told that Christmas is a little similar to Valentines day, with particularly romantic couples giving each other gifts. There are so many wheelchairs and buggies queuing for lifts, the day requires much patience.
I so much enjoy not being given a wide birth,
being allowed to squeeze my way through, like anyone
else; being recognised as a person, not trafik.
And no trace of the ubiquitous speeding jokes,
what bliss! Above all, the mentality that sees
the possibility of offering service
as a human delight, no chore, just a pleasure;
common courtesy that does not single me out
with a tedious sigh and a fed-up facial
expression. And no pressure to be super-crip;
or the continuous burden of proof to find
evidence of not being a scrounger, a cheat;
a drain on the physical, financial, and yes,
the emotional framework of what passes for
enlightenment, or civilised society.
December 24:  Juleaften
Christmas Eve day, so light and bright, even if there are clouds in a less than perfectly blue sky. The klejner (Christmas biscuit) dough has rested in the fridge overnight, to be rolled out, cut, twisted and deep fried at this very late stage in the proceedings.
Everybody warns me that already tomorrow evening, latest the 26th, all signs of Christmas will be gone. New Year is the big unmissable event and preparations are already underway.
Chinese New Year celebrations involve families all getting together, cooking and eating as they go on the night, so here in Japan they might just be SinoScandiBrit biscuits…
Modern technology fills the apartment with almost familiar Christmas music. Our festive food seems strangely complicated in a kitchen designed for Japanese cooking, but it is recognisable and differently delicious.
Today we celebrate, we feast upon the harvest, the bounty of 2014, we rejoice that the dark days give way to lighter brighter moments and ponder the mystery that makes people more than what the eye can see or the hands can grasp.
How you live it, what you make of it,
where you leave your mark;
life unfolds challenges, scarily big and
cheerily tiny.
The paths we choose to take,
the memories we make are who we
choose to be; people
we become, the content, DNA
of humanity.
Each one of us unique,
elemental moments in the grand,
the bigger, picture.
December 25: Christmas Day
Back to work for most people, the day starts with the delivery of some internet purchases; a modern version of Santa?  Merry Christmas.
The light here is amazing! I have a suddenly refreshed insight into the utter necessity of Nordic Juletide festivities. Enduring the darkness of winter, the reemergence of the sun needs celebrating and the possibility of new light-provoked shoots and leaves needs every encouragement it can get.
Here in Tokyo it might be cold, but light-dependant life continues undisturbed. Plants that would otherwise shrivel and die in the cold, seem unaffected. Red poinsettias, Christmas stars, have decorated the windy streets of a shopping complex, spider plants dangle their offspring over chilly pavements and walkways and long green leaves of narcissus flicker in the wind. Camellias blossom red and white in generous profusion.
Things I think I know about plants now sprout question marks. Things I think I know about equality, about living, shift subtly like the colours in a kaleidoscope, make new patterns. The burden of disability that in my daily life I unquestioningly take on my shoulders, melts away.
In holiday mode I no longer suffer society's pressures and condemnations. In gaijin mode there is such freedom to be me.
Sumida shimmers fathomless
blue-gold reflections, shivers
in her reptile skin as sky fades
and night blackens her winter green.
Still pockets of ginkgo gold float
undecided hearts on backwater
eddies; skyscraper twins ripple
in her tidal patterns as Tokyo
lights adore mirrored images
born to and from the sea in the
homeopathic memory
of water. Has she forgotten
the dreams I whisper over her
restlessness? Does she remember
the hope I carry across the world?
December 28: last day for a lucky outcome.
Today is the last day that I could consider beginning Tokyo New Year celebration blogging. The 29th is out – any number that includes a nine is bad luck and the 30th is just too late for showing any proper respect.
Preparations are already well underway; anytime after 13th December it is ok to start gathering pine branches.
Most firms have already held their End-of-Year staff parties and people are taking holiday and beginning to gather as families in festive mode.
Free End-of-Year concerts abound. I don't recognize any of the music I've heard so far, but I'm told that Beethoven's 9th is the New Year music of choice.
We have begun planning our End-of-Year menu, online research has revealed some shockingly expensive food box selections, but we are planning something simpler fetched from the world famous Tsukiji fish market. (I'm rather pleased about that as it is reminiscent of the Danish tradition of buying a New Year's Eve cod at the harbour market).
We will of course be eating soba (buckwheat noodles) in the run-up to midnight and not to bring back luck, or carry any over from 2014, we will be taking care not to still be eating them after the hour has struck and the year changes.
I've not been able to get to the source of this ritual, but the tapping has already started. Nightly, groups of men wander the area tapping two wooden blocks or sticks together to ward off demons and bad luck. Our street has been cleansed most evenings. According to local custom, every street in Tokyo should be treated.
The New Year needs a clean start and no demons or old-year bad luck should be allowed to cross over.
Is it me, wheeled demon,
mowing down innocents,
stealing the price of a
decent champagne from the
gods of Westminster?
is it me, wheeled demon,
terrifying children,
'ware, 'ware, wheeled chair; rolling
at you, stealing your space,
and always in your way?
Is it me, wheeled demon,
using your taxes on
frivolous ramp-age
and luxury access,
or stealing your healthcare?
Is it me, wheeled demon,
symbolic scapegoat of
all that is wrong in
your life, your world, your hope
of streets paved in gold?
December 29:  lucky sheep
One of our Christmas day deliveries was the bunch of New Year flowers. An assortment of yellow blooms with greenery, including the all important branch of a pine tree. Traditional beliefs held that the gods visited the earth at this important time and lived in the pines trees until the New Year.
Good wishes for the New Year arrive frequently and include plaited rice stalks or straw, rather like a corn dolly, with good luck messages and prayers, which we hang on the front door.
Big businesses have their pairs of Kadomatsu, pine branches (gathered on or after 13 December), with three lengths of bamboo, bound with tree bark or straw and tied with decorative straw plaits. These year-end, New Year 'welcomes' to the gods seem also to function as status symbols prominently placed at the front entrances. Kadomatsu are traditionally taken to the temples to be burnt around the 15th of January, thus releasing the gods back to their own environment.
Department stores are also full of imaginative displays in their windows and inside, usually including elaborate versions of the rice 'corn dollys' and the colors red and white.
Decorated figures representing the 12 animal zodiac signs are prominent, the outgoing Horse being replaced by the wood Sheep, the third of the three fire cycle animals. The sheep is a lucky animal.
Taking care of the mystery,
shaping the unknown to fit in the
palm of my hand: offering rice
pudding and cinnamon to the
Julenisser, respecting the
pine branches of Toshigami-sama;
attempting to manipulate
fortune in my favour; watching
sunrise on auspicious mornings.
Keeping a wide eye on my world,
reminding myself of whimsy;
as good as marking crosses on
strips of paper placed in secret
boxes subject to rituals
of counting and a fickle lack
of human kindness. No better,
no worse, but much more satisfying.
December 30:  clear separation
Swirls of coloured lights decorate the abundant planting in the streets. Good luck messages flash from the hoardings. The end of the year is fast approaching.
The Wako department store window has the usual crowds standing in admiration, blocking access to the pavement. This New Year's display constists of white sheep, with golden horns, lined up and facing the back of the window. Suddenly one of the sheep swivels around to peer out at the crowd. Passing pedestrians make sudden stop and backtrack to join the watching crowd.
Fearing last minute crowds we decided to fetch our end of year fish from Tsukiji today. This meant heading out long before the crack of dawn, but did result in the successful acquisition of three different types of crab and various prawns.
The day develops bright and warm and we take morning tea on the sunny, sheltered balcony.
Much later it sounds as if the nightly tapping has been joined by softly ringing bells, we are being well prepared for the year change.
2014 is being well rounded off, closed down; finished. A sort of 'spring cleaning' prepares us for the letting go.
Without really trying, two thousand and eight was the year
I left behind a whole back-pack of old pain, put it down,
and wandered away, revelling in a brand-new lightness;
discovering energy and inner fire, a weightless
intoxication for the New Year and a clearer mind
from which to grow and practice being artist, being me.
A hesitant twenty-fourteen opens my eye to the
need to shed psychic-spanx, the mental corsetry holding
too much of me in conformity, imaginary
restrictions, like cracks in a pavement I fear to tread on,
warping the shape of my artist for nothing other than
superstition, and a crazy idea of who I aught to be.
December 31: a family affair
End of year day and a holiday. The festive air is infectious. There will be celebration events all over the city. People will be out partying but many families will be staying home to watch the traditional marathon tv singing contest.
As the year changes bells will strike 108 times and at some temples visitors are invited join in with the ringing. Around a million people will pass through the Meji shrine as it is the custom to offer wishes and prayers in the first five days of the New Year.
Themed partying at Disneyland is very popular. These things need booking well in advance. It is also the custom to watch the first dawn of the New Year. There will be a long trek of people climbing a local-ish mountain to view the dawn from its peak, maybe catch a glimpse of Fuji-San if they are lucky, and stopping at the shrine on the way down. Even those who never give it a thought in the daily run of things will visit a shrine to make New Year wishes.
Not much of this makes its way to the national news chanel, it's almost as if, at the last moment, the New Year creeps in by stealth.
Long queues of people patiently waiting their turn to enter snow clad temples; a band of semi-naked men jogging and chanting, also in the snow, a single strike of one giant brass temple bell and reverential views of people praying at warmly lit shrines – these made the news.
Live feeds on our collection of tablets, from countdown parties and the balloon release from Tokyo Tower, blurred our impression of when this New Year actually started.
I fleetingly missed the bongs and paused to wonder if Auld Lang Syne is still played to indicate closing time at the museum.
Positively the day for tapping sticks;
melodious clunking to clear the way
for the pristine year awaiting the bold
brave enough to draw a line under the
demons of twenty-fourteen, to archive
it's treasures, to learn and to grow into
the discoveries and challenges of
the new. Unleashed at the stroke of midnight
I don't know where I'm going, nor who is
going with me, but I will treasure them;
sharing what I need to share,
loving who I need to love,
as I practice being me;
my own unique source for creativity.
January 1: happy New Year: 'Akemashite omedetou!'
Our New Year shellfish made disturbing flips and wriggles on its way to the pot. Homemade sushi, slices of raw fish, scallops, sea urchin and salad completed our meal. There was hardly room for the soba just before midnight. We had symbolic portions.
Even so it was hard to think about sleeping. I dozed and woke in time to watch the day dawning.
Actual sunrise is not visible from the apartment, but dawn sky is frequently glorious.
Today's blue sky sinks into clouds of gold that darken behind the white and glass skyscrapers masking the horizon.
Food today is mostly traditional Japanese style which means we cooked the rice-bread New Year 'decorations' for our breakfast.
The weather forecast offers a 50% chance of snow here in Tokyo; elsewhere in Japan snow is already thick and skiable.
We wrap up warmly for an initial attempt to visit the local shrine to make our New Year hopes known beyond the prison of our own human boundaries. The length of the queue puts several people off, us included, and we wander back home through a light sprinkle of snow. The day has a wonderfully relaxed atmosphere.
Almost choking on good-luck rice-bread
I ponder my chances of drowning
in luck. The rice bread, cooked, in a sweet
red bean soupiness, begins a slither
down my throat, then comes to a halt
blocking my airways. Momentary
panic, dissipated with eventual
breath, is just the kind of event to
trigger thoughts of time, life and purpose
in keeping with the desire to
be a truer kind of me, riskier;
and maybe I could learn to like it,
to be at some kind of peace
with my own unknown; less influenced
by the experience of being
judged and pushed to margins
I never imagined outside fiction.
New Year 2015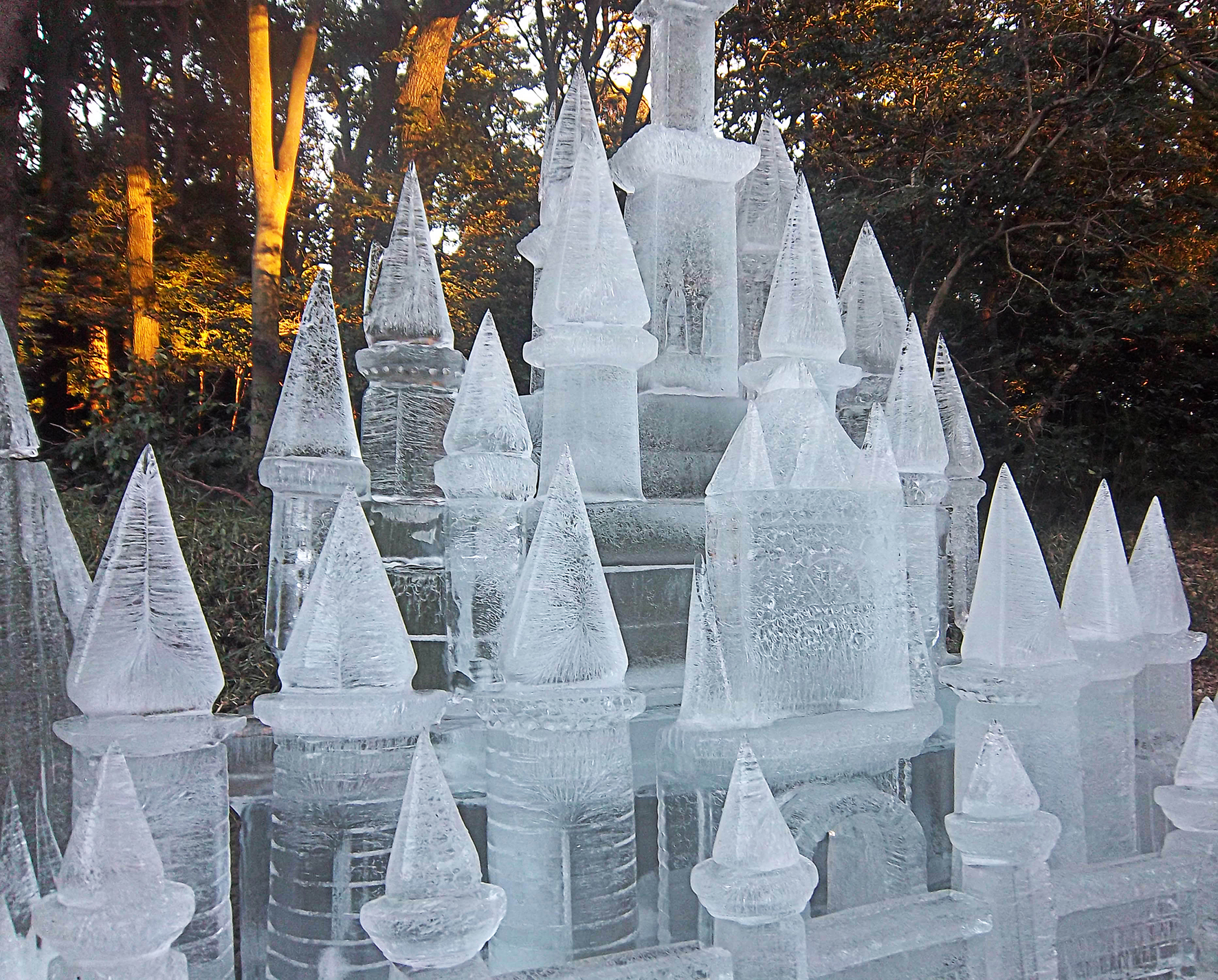 It is customary to visit a shrine in the New Year. Our local one had long queues and we decided on visiting Meiji Jingu
Getting to the Shinto Meiji Shrine needs a train change and I hoped to avoid too many chair lift situations, but got caught out by 2…
The shrine was both New Year busy and coming of age busy; 
Seijin-no-hi
 (Adults' Day) is one of the life markers celebrated by Japanese people. The first one occurs at three years old.
This day, loads of newly 20 year olds have hired kimono with white furry collar for girls and, mostly, formal penguin for boys, to celebrate the day.
There were also long queues here, but the temple grounds are extensive and beautiful with ample opportunity for promenading by the young people in their finery.
In one part of the forested grounds, the long approach to the shrine was lined with an (international) exhibition of ice sculptures. I found them mesmerizing!
They were a surprise, an avenue of individual artworks stumbled across on a perfect day.
The low sun, slanting gold through the forest pines, was caught up in the ethereal whiteness and, slower than the human eye can interpret, was gradually transforming each crisp shape into something other.
I have photos and such hopes of being able to share the weirdly wonderful beauty.
It was very cold and windy, but some of the sculptures had already melted and or broken; most of them looked ethereally impressive against the backdrop of the Meiji Shrine's pine forest – the low golden light filtering through the branches.
Admiring them for what they were, I was suddenly give new insight into my own work by several people's comments along the lines of: 'they resonate with your own work – the soft sculptures – they could be saying similar things about life, about disability, about beauty'
That had to be my January highlight!
January Spring?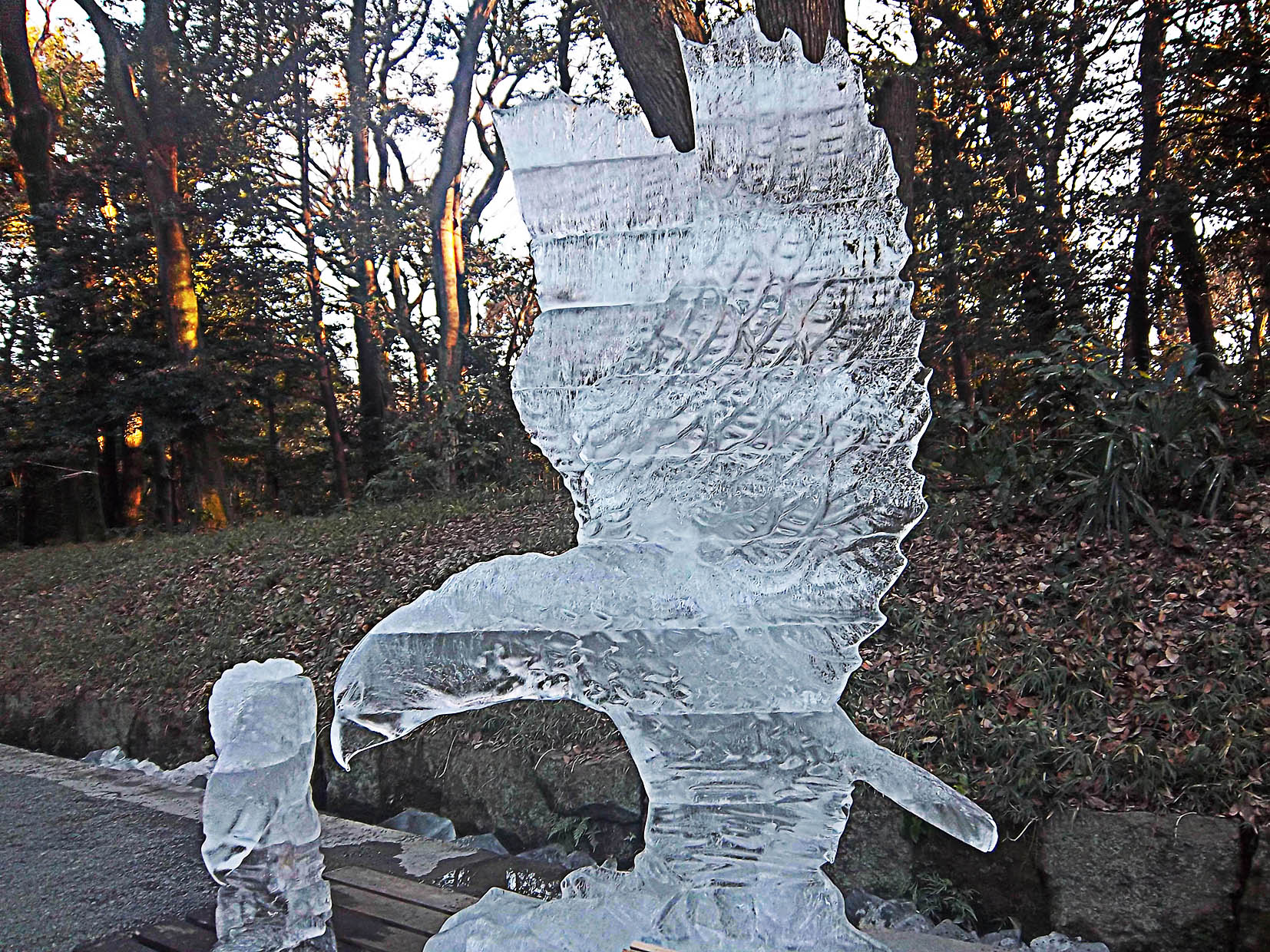 Rolling into Ginza, I looked in amazement at what appeared to be signs of spring. Furry buds of swelling catkins, large new green leaves on trees, pink sorrel bursting into bloom…
The magical effects of light will not be this powerful in England until April.
I used to make an annual New Year pilgrimage to Stourhead, an impressive English house and garden, to catch my first glimpse of snowdrops – until being humiliated at a local pub who refused to serve 'a women on her own' – took the fun out of the occasion.
Now I'm rolling into Ginza, Tokyo, offended by no-one, and able to observe 2015 waking up in bright clear light.
In England my life struggles around the giant wound of benefits assessment; excessive negative pressures and presumptions; powerlessness and lack of choice.
Here in Tokyo I am free of that burden; I never meet my tormentors; I'm never challenged by their reflections, I am never forced into fear.
Not because Tokyo is perfect, but because here I do have real choices. Here I thrive in my own micro-climate; there are no obviously inhuman edges. My command of the language is limited. As is my exposure to the Special Treatment visited on native disabled Japanese people.
The cultural distance is key.
I am free to work at my identity, to invest in all of my selves, to grow and to win back innocence.
In Japan there is a long tradition of the treasured repair, shards reunited with gold; priceless and utterly unique.
People like You should be taken out
and shot; people like you are nothing.
You have no quality of life, you
must live with it. Die with it. You are
less than nothing; broken and worthless.
Except that I, like the Phoenix, rise,
healing with liquid gold, aware of
the rainbows shimmering colour on
seams of precious beauty; once just scars
inflicted on the totality
of my mind, the wasted years reclaim
more, more than any system, more than
any person could ever steal away.
We all must find our own personal way through the nightmare that is The System.
I'm lucky enough to have been rescued by being enabled to stand outside of it. The shock of being so far outside, helped me see how mutilated and frightened I had become. The reassurance of frequently stepping outside is my survival.
.
.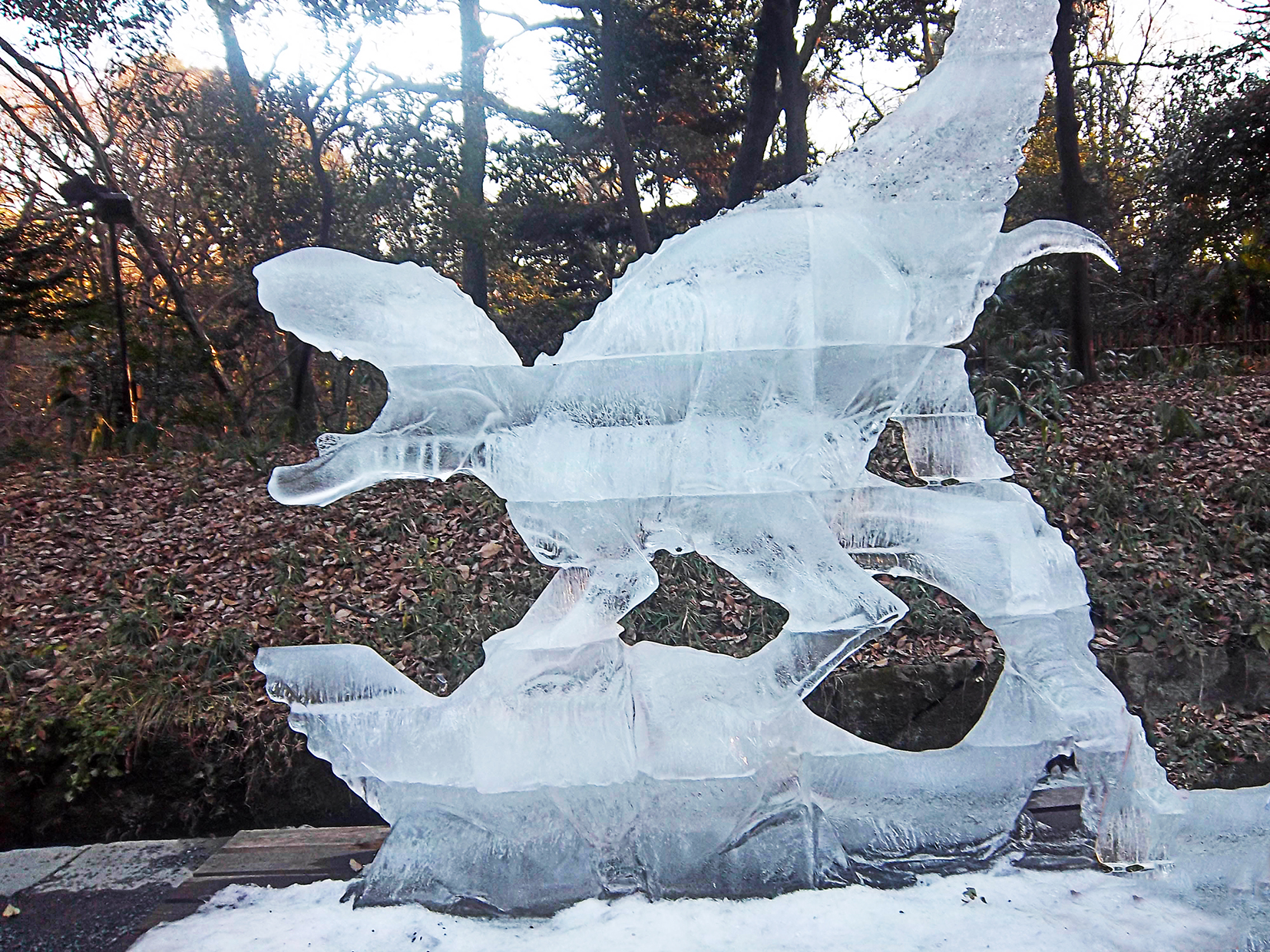 Dragons or dinosaurs..      
Today we are invited next door for 'lunch' and my first invite into a 100% Japanese home.
The neighbours are very international, western influenced. Their home reflects this.
Pictures on the wall are western art, but he has a collection of Edo-era woodcut prints, including some depicting this actual area of Tokyo some 400 years ago. He is knowledgeable of the printing techniques and the local history. He makes his own New Year Woodcut greeting cards annually…it looks like he prints with paint
He also likes wood and has commissioned some of their furniture…
He has his own homemade mini model railway – hours of obsessive labour! And I understand he plays and teaches guitar.
There is a large, deep, dark brown carpet on the wood floor, two sofas, one slightly day-bedish, an easy chair and four upholstered dining chairs around a small wood dining table, non-matching furniture, but black/white/grey coordinated in contrasting textures.
A Greek influenced Buddha head and various small carvings are neatly labelled on a wooden shelving unit surrounding the tv. There is also a collection of CDs.
There is food on a long low table, the dining table is being ignored for this rather strange meal.
A plate of small nibbles; a miniature bowl of potato salad with one olive, one small curl of salmon, and a sprig of herb, is accompanied by apple juice and followed by a very chunky white bread sandwich – potato salad and salmon. A cup of coffee and a waffle with ice cream is promptly followed by crème brûlée with green tea. My stomach feels a little volcanic; unsettled by the coffee/ green tea combo.
The neighbour's wife is wearing slippers and an apron and is busy in the open plan kitchen, producing the food as we eat, including the little individual crèmes brûlée made with a mini blowtorch (popular in Japan for fish cooking). The focus is all on her husband.
We have tv running the whole time, plus some rather loud music. I'm battling with a headache, but I think it all goes smoothly.
It lasts around 2.5 hours, before we begin on the profuse thanks bit and the long goodbyes.
.
.
Back to Normal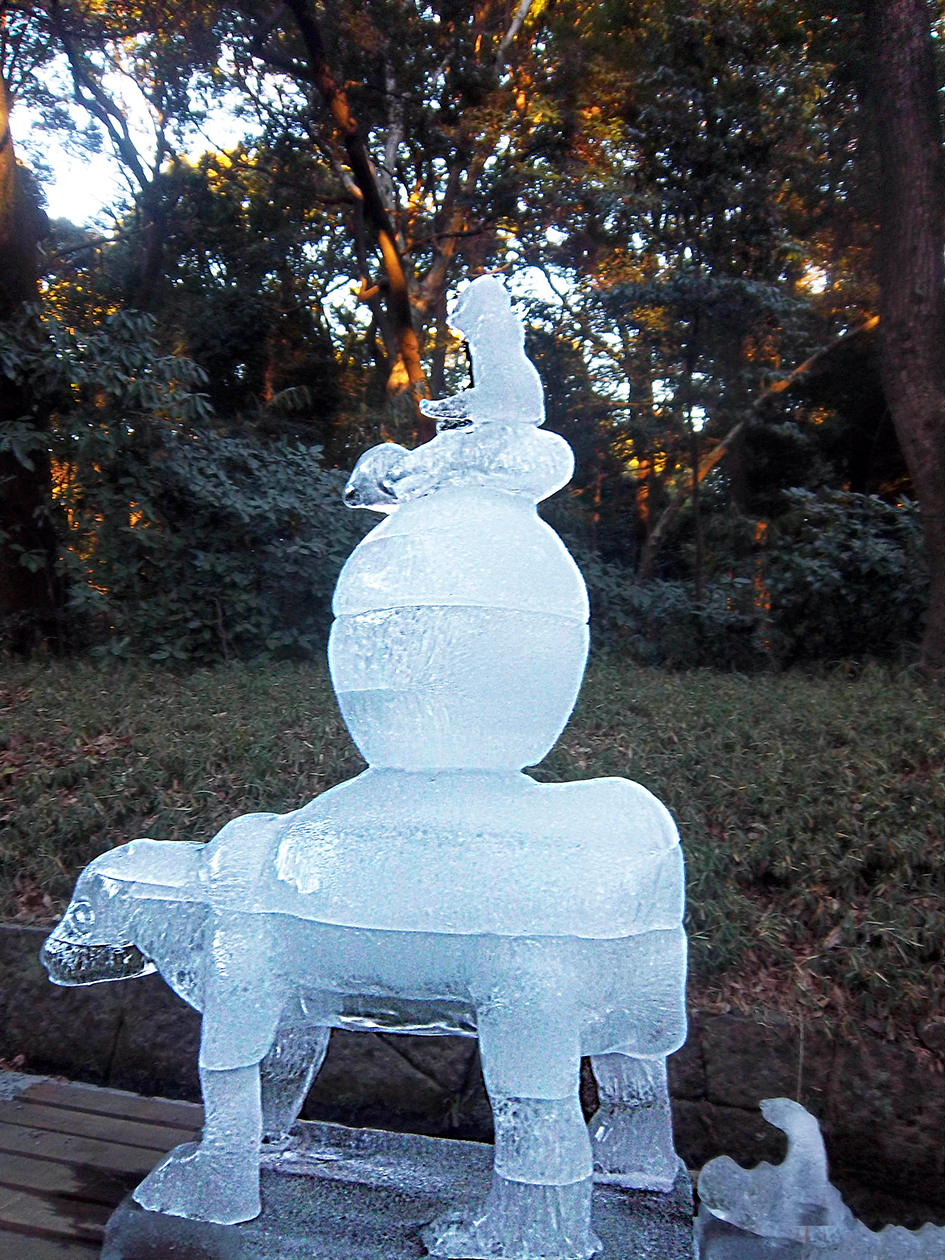 creation story…
I took the metro into Roppongi, and rolled from Roppongi Hills to Midtown. It was cold and I stopped for an orange chocolate cream mocha in Midtown Starbucks, before heading down to DesignSight 21_21, my all-time favourite gallery.
Seeing the exhibitions there, is like someone getting inside my head and  saying stuff out loud that I have been silently, incoherently, pondering.
And I always want to take the exhibitions away with me…
I've been to some memorable exhibitions, like Cezanne (in Paris), like Picasso sculptures (at Louisiana); I love to gaze in awe at great art. But of the issues that really resonate personally with me, the immediate relevance and vision of what I get presented with in Tokyo always stands out.
So my visit to The Fab Mind was also a January highlight
.
The concept and the curation is what sets 21_21 apart; the ability to involve me in work, in arts practices, that grapple with today's issues and tomorrow's innovative solutions, while never abandoning history and humanity, never fails to inspire me.
The Fab Mind begins with a wall of posters, quotes in English and Japanese, such as: 'healthy people are bad for Capitalist society' and a clock.
The clock consists of over 100 simple clocks whose hands move in a visual concert of shapes that for one second out of sixty, show the date and time.
The words echo half formed ideas eluding my conscious mind. The clock plays with my whole concept of time.
I took photos of the clock of made up of clocks, the slogan posters, Fixperts, the Heath Robinson land mine destroyer, knitting and the hand v octopus installation of handles; I pondered the universal value of sourdough and the model of the future man who recycled his own waste.
So very much to mull over…
.
.
My guts are screwed up. I feel sick, weepy, desolate.
And lucky. Innocence sleeps – a heartbreakingly easy sprawl on the bed. My desire to protect, woven inextricably into the knowledge that I will leave.
One of my lives gets lived almost 10,000 miles away.
But I am so privileged to have this love, this life, this knowledge. So blessed by family.
The day is glorious, sunshine, blue sky, not too windy. We woke happy and now everyone has gone about their day.
And I've been packing…
Wondering how how to deal with the 'hovering' when I'm almost done, but waiting on the last minute stuff,
the minute details…
With an early finish, we decide to do cinema. A totally new experience!
It's the 3rd in the Hobbit trilogy – a good trial of Japanese cinema since I know the story well 🙂
And of course the cinema is clean, tidy and the screening excessively silent; but otherwise I could be anywhere. The accessible wheelchair space is integrated, great, and I don't get isolated away in a space all on my own.
Its not enough to help me forget the pain of impending departure.
I gave my heart away knowing this:
knowing there was no other option.
Innocence sprawls its heartbreaking ease
across my bed; pain gnaws into me,
a fierce desire to protect, nurture,
woven inextricably into
the knowledge that I will leave, alone.
The privilege of love my only
source of sanity, both the healing
and the wound, threading us together.
Laced through my awakening humanity,
blurring the hard edges of denial
with beginnings and endings, with
momentary impermanence that is
also timeless, eternal love.
I give my heart away knowing this:
knowing there is no other option.
.
.
Leaving.
lion attacking
.
Woke at 5- ish.
Got ready, packed last bits and pieces. The minute details of my life.
We all had breakfast.
And then it was time to go.
At the local station a young chap had collapsed just where the chairlift needed to arrive at the bottom of the stairs. All staff were occupied on the platform. The area was cordoned off. We waited.
Rush hour happened. The station came to a standstill.
Emergency crew arrived. The young man was eventually stretchered off. Unconscious? It didn't look good.
40 mins delayed we headed for Ueno and skyliner.
And another 40 mins later we arrived at Narita. I checked in and got handed over to a wonderfully helpful chap who stowed my sticks and hand luggage so I could roll around and explore. Apart from the heartbreak it felt very civilized.
I said my goodbyes.
Love hurts so much sometimes.
Check in was stressful, but eventually everything was ok'd. I could have my cushions on board. I could have my crutches on board. I could roll my chair to the aircraft door. I could stow my batteries on board. I could have necessary leg space.
I was loaded onto the plane and quite well looked after. My hottie was kept full and properly warm. I had reasonable control over my crutches and 'footrest' (my very light piece of hand luggage).
The vegan food did not materialize, but they found me non-meat, non-cheese meals. And reasonable amounts of water/apple-juice/green tea.
At H'row my special assistance again failed to materialize. The three guys who brought my wheelchair to the aircraft door treated me like mindless baggage, they refused to carry my crutches and hand-luggage (a very light bag) off of the plane. Not their job. Stalemate.
One of the flight crew agreed to escort me through immigration and customs, easily carrying the crutches and bag.
I got through in record time, my dignity almost intact, my heart mangled.
My taxi driver was waiting.